Open Sessions
Kids 'N Shape fitness play open sessions feature an exclusive combination of interactive fitness attractions designed to improve your child's motor skills and engage them in safe, open physical activity.
Birthday Parties
Birthday Parties are legendary at Kids 'N Shape. Unlike many other venues, we give our customers free reign of the entire facility for all their guests.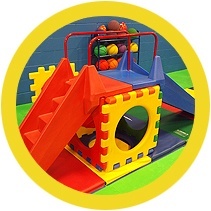 Private Play Dates
Private Play Dates are available for Kids 'N Shape fitness play. We offer two hour play dates, Monday through Friday during which your small group class may come and enjoy the facility to themselves without interruptions.
Children enjoy themselves while gaining a love for physical play.
Kids 'N Shape party place for kids has been serving the New York City area since 1989 and continues to be owned and operated by the Guarneri family. Although children's fitness play is inherently physical, Kids 'N Shape takes great care to ensure your child's clean and safe environment. Contact Kids 'N Shape for modern children's fitness play.